Kakode Trading LLP popularly known as UPGRADE is a five decades old group. It has evolved into one of the largest distributors of construction materials and equipments in Goa and has transformed  itself into  a one stop shop for the construction industry. With a network of 2000+ dealers under its belt, Upgrade has made its mark in Goa as a highly trusted partner for supply of building materials. With a robust product portfolio of marquee brands in the construction industry, Upgrade has the widest range of over 17000+ products which caters to most needs of construction, maintenance, cleaning and repair industries.
We have been privileged to be associated with some of the renowned brands in construction materials catering to different categories like steel & cement, construction chemicals, plumbing & sanitary ware, Interiors, roofing & cladding, power tools and general hardware.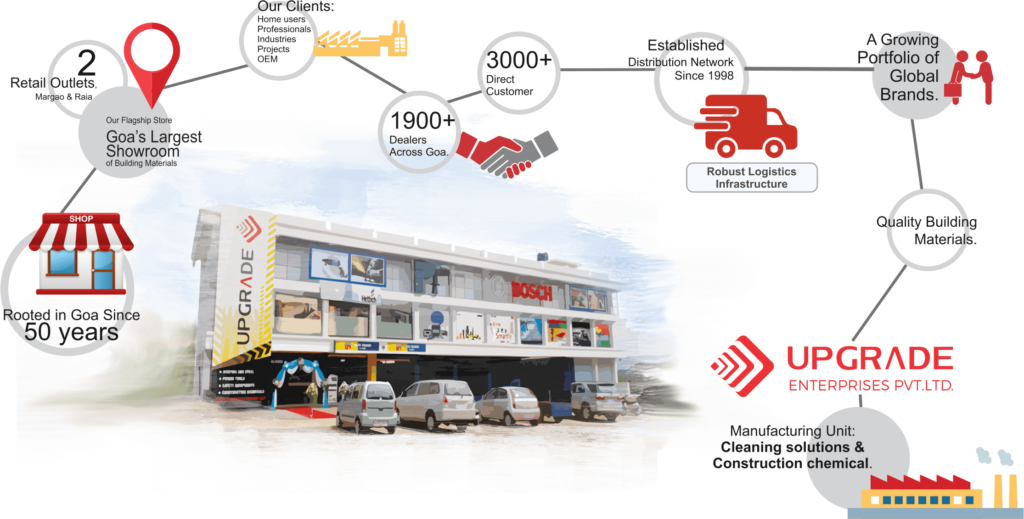 Inspired by the "Make in India Initiative ", UPGRADE set out on its journey in 2017 diversifying from its well-established trading business of various building materials to a manufacturer of cleaning chemicals, thus setting its own manufacturing operations in the industrial estate of Cuncolim, located in the southern part of Goa.
Upgrade Enterprises Pvt. Ltd. is (an ISO 9001:2015 Company) our manufacturing setup engaged in manufacturing of cleaning chemicals serving the clients PAN India. We manufacture premium quality products to cater to a wide range of applications in the cleaning industry. We back this with a team of experienced sales professionals and certified / trained applicators. Our motto is "FROM CLEAN TO HYGIENE".
Approvals & Certifications
Our products are certified by CFTRI, BUREAU VERITAS and are approved by some renowned organizations such as GSIDC, Railways, DPIIT, GEM, Goa Shipyard Limited, MSIC, etc. We have approvals in process for MES, CPWD, PWD and Indian Navy.
We are founding shareholders of Konkan Maritime Cluster which is the first such cluster in India. We are also the members of CII, GSIA, GCCI, Indo American Chambers of Commerce, Global Chamber of Saraswat Entrepreneurs, Executive Council member of GMA and IQAC member of Damodar College of Commerce & Economics.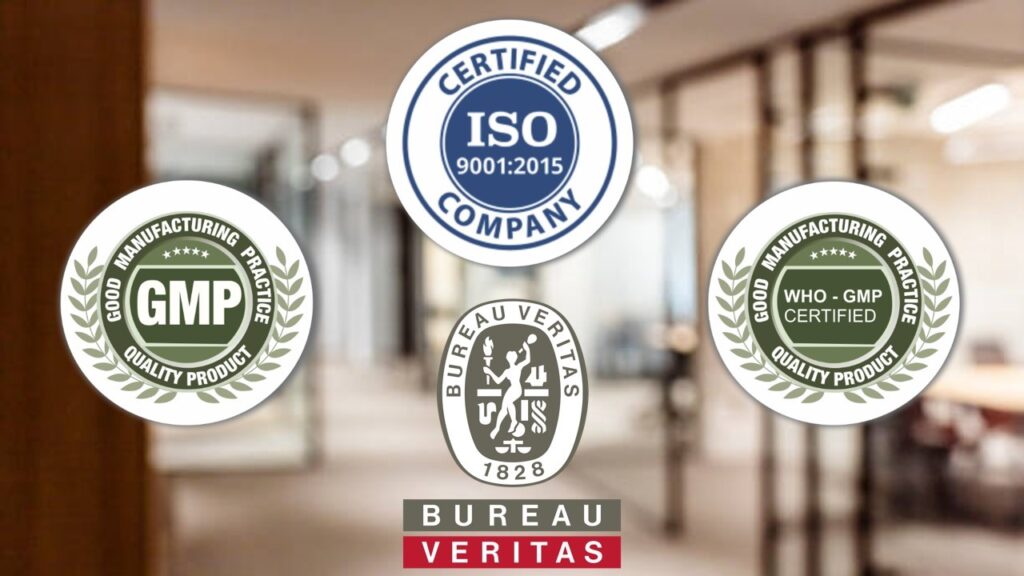 KEY PERSONS
A key person in a company refers to an individual who plays a critical role in the success and operations of the organization. The following are some of the common key persons in a company:
Mr. Pravin Kakode, is the Managing Director and Co-Founder of Upgrade Enterprises with three decades of experience in building materials. He has done PGDM in Finance & Marketing. He is one of the Directors of Global Chamber of Saraswat Entrepreneurs and the member of IQAC committee of Damodar college of Commerce and Economics and Executive council member of GMA.
Mr. Pravin Kakode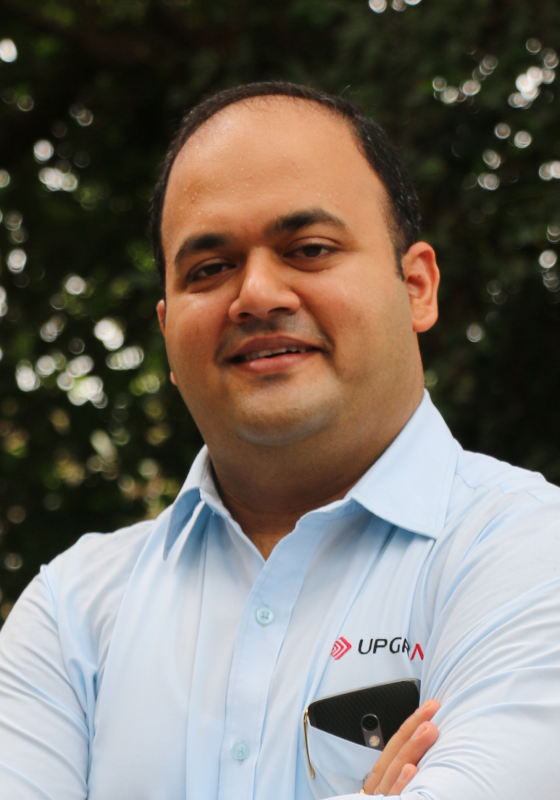 Mrs. Santoshi Kakode, is the Director and Co-Founder of Upgrade Enterprises. She comes with over a decades experience in trading business and is currently handling finance department at UPGRADE. She also runs another unit "Krafters" which deals into corporate gifting and signages.
Mrs. Santoshi Kakode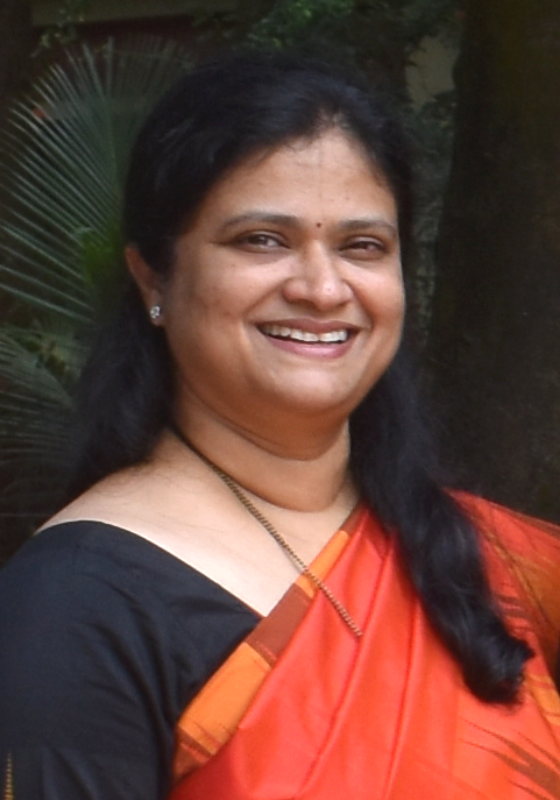 Mr. Gunesh G. Shikerkar has been with Upgrade for more than 2 decades. He joined the group when we were a 6 member team and since then has worked in all capacities including HR & Sales at different times in the organization. Currently he handles finance, purchase and logistics with a team of efficient and super-committed Upgraders.
Mr. Gunesh G. Shikerkar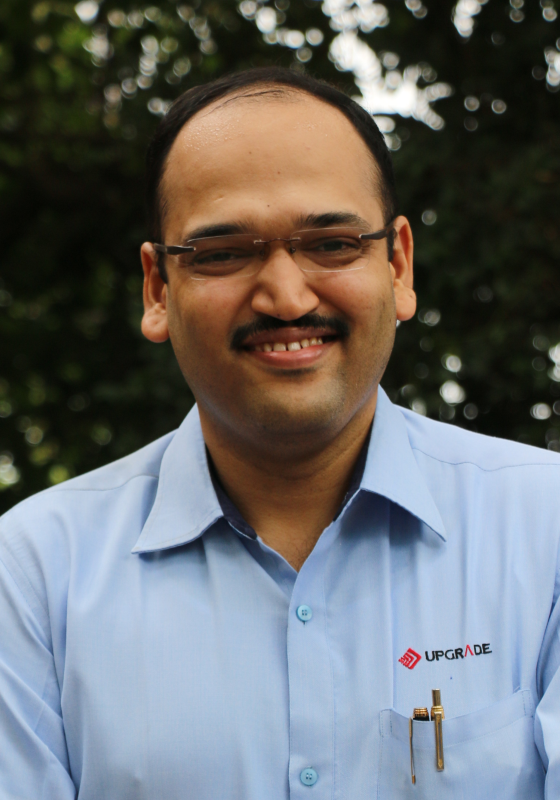 One person who played a major role in start of UPGRADE is our mentor Mr. Vishwas Kenkre. He is the Alumni of UDCT - Mumbai and Alumni of IIT - Mumbai. Retired as Technical Head with Huntsman Advanced Materials, he is a techno commercial champion. He has had a brilliant career of four decades and has worked in various technical functions in Switzerland & China apart from India.
Mr. Vishwas Kenkre
Mr. Rajesh Dessai, one of our integral members of UEPL team. He has over 12 years of experience as a Factory Manager, looking after the overall factory production & product development of UEPL construction chemicals manufacturing unit.
Mr. Rajesh Dessai